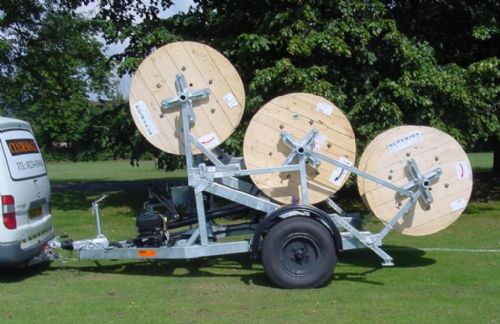 Courtesy-clydesdale
Cable trailers are used to transport cable, spooled around a cable drum, and the drum is then placed onto the trailer and moved from one place to another.
A cable trailer in itself is categorized by different kinds. There are different types of cable trailers, which include:
1. Manual cable trailers:
Manual cable trailers provide an easy, cost effective and maintenance free method of spooling the cable around the drum, and transporting it from one place to another. The loading and unloading of cable drums requires two different methods. One includes in which the side arms can be lowered by a manual winch, the drum can be lifted up and put on the trailer. The other method comprises of using a forklift to lift and place the spindle on the trailer.
2. Hydraulic cable trailers:
The other type of cable trailer is hydraulic cable trailer. It uses hydraulic power in combination with an engine and petrol or diesel which provides power to the trailer. The spooling is also done effortlessly through hydraulic system, and the work is done efficiently. It includes features like air brakes, disk break from drum, and self-loading capabilities which make it easier and faster to do the work.
3. Multi axle or twin axle cable trailer:
Multi or twin axle cable trailers are used if there is a lot of weight involved, or there are more than one cable drums which need to be transported. The functionality is the same as single axle trailer; only the trailer is built to support double weight of the cables and the spooling drums.
The different kinds of cable trailers are used in different scenarios to make work easier and quicker.